We love this time of Year  
It's the season of joy, giving, Holiday films, time with those you love AND Festive Holiday Sweaters! Oh boy, are Ugly Sweater traditions fun. And there's so many! They can really just be about anything. There are ones with your favorite quotes from Christmas Films, "Yipee Ki Yay…" Yes. (Die Hard is a Christmas Movie. There. We settled that argument), ones with your favorite moments like a certain Fragile Lamp or just a Cat in a Santa Hat. 
Every year we commemorate such an occassion with an Ugly Sweater Party.
It lands on the Saturday before Christmas (unless it's Christmas Eve) and we feature Holiday Ales, Spirits and great live music. It's the best way to celebrate finishing up Holiday Shopping and one last time to be Naughty.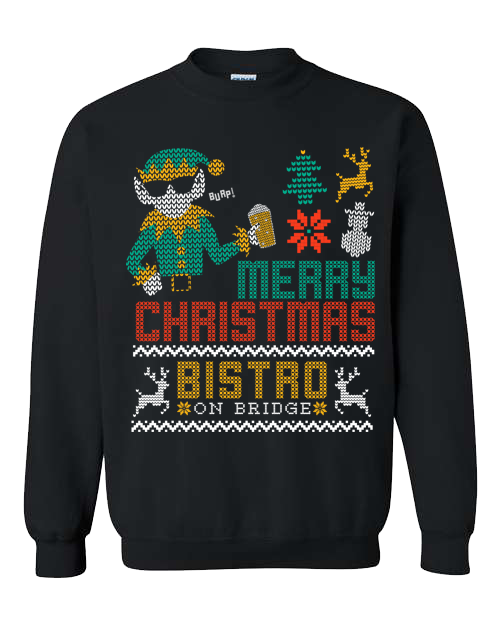 Now, if you know us well enough, you know a few things. At Bistro on Bridge, we have some of the finest craft beer selections around the area. It's not enough you can enjoy a Pliny the Elder regularly, find a Hill Farmstead or two. Heck, we just tapped Trillium!! And what pairs better with beer? Other than another great beer, but a diverse menu with offerings for just about anyone! 
Furthermore, we always carry an assortment of swag. We love our Brand & Creative Staff and best way to show that off is with our Merch. That is why, for the first time ever, we present our very own Bistro on Bridge Ugly Sweater!! 
We gave this design some Holiday Flare with the Christmas Essentials: Reindeer, Tree, Holly & a Snowman; however, you may notice our chill Elf slugging down some suds. Elves have just been as iconic as Santa when it comes to the Holiday, but they seem to really resonate with brews. Come on, Mad Elf anyone? Only one of the Original Craft Beer Classics.
Come by the restaurant today to view our apparel, grab a beer and walk out with some Bistro on Bridge swag either for yourself or someone this Holiday Season!