New Branded Bourbon in the House!
Last month, several boxes arrived from Whistlepig Whiskey. Could it be? Has the day finally arrived? A new Single Barrel Selection was ready for our shelves, this time, featuring the famed Distillery from Vermont. This version was aged 6 years in Oak Barrels. 100% Rye.
This is going to be the Summer of Whiskey Business at Bistro on Bridge!
If you recall, there was a similar release with Knob Creek about this time last year. And with that, we launched a Whiskey Business T-Shirt! This year, we figured we'd turn up the volume; therefore, amp it up with a new design that shows just how much our Team Rocks behind that bar!
We took the concept to the next level and had them printed on a color called, "Heavy Metal". Like the sleeve says, "That's Just How I Roll".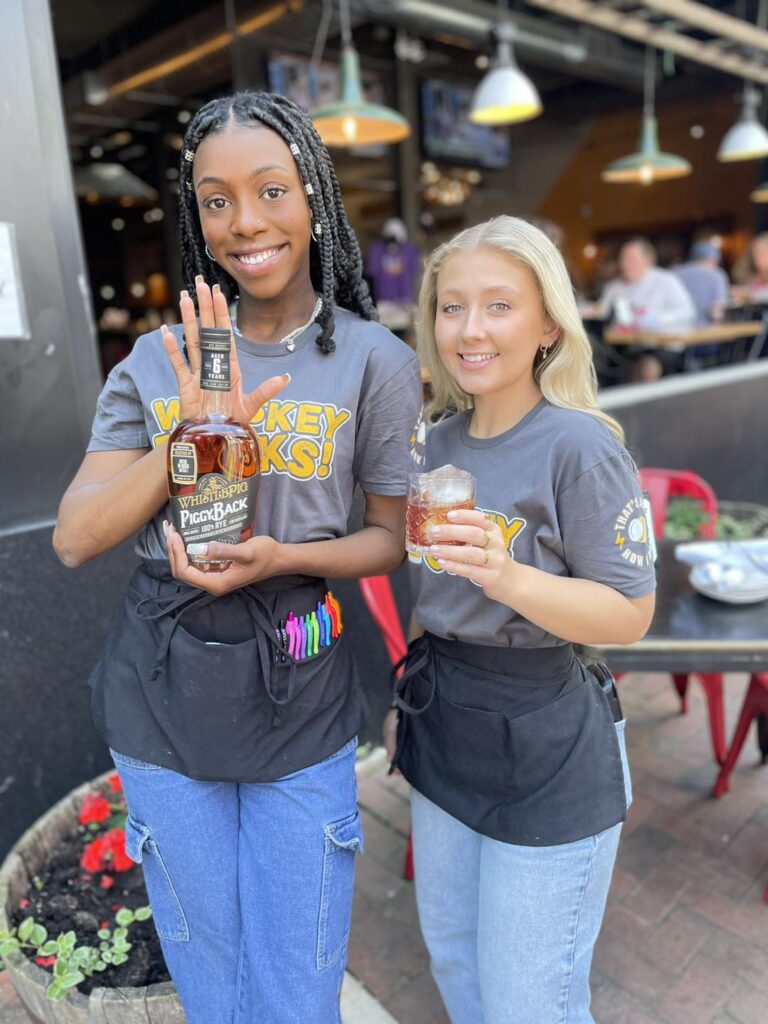 The fun didn't stop there! An email came through for our Event Manager regarding booking party space for Saturday, June 3rd. Reading on, the group would be coming from a show filmed at the Colonial Theatre and starring…wait, can this be true…the Booze Traveler himself, Jack Maxwell??
Futhermore, he wants to create a cocktail SPECIFICALLY for our restaurant! What's he going to conjure up for us? What spirits and liquors do we have to showcase? This is when our Event Manager, Nanette Welsh, had the brilliant idea. Why not make a drink starring our own house whiskey?
That's when it was written. A Cockail with a peculiar name and a flavorful punch was born.
Cold Bold Very Cherry Power Sour 
Boy, did we sell A LOT that evening! Whether it were guests from the event or attendees from the show, they all arrived to Bistro on Bridge ready & thirsty for this specialty cocktail. 
In case you were wondering if it was any good, it was absolutely delicious! In addition to the taste, we sold over 50 of them within the short amount of time Jack & his guests were in attendance! 
This was a wonderful event and all of Jack's guests were all so genuine, nice & down to Earth. Some you may even recognize one of them from a movie years ago. Casper Van Dien from Starship Trooper fame was here too! See photo below for reference. 
Spectacular way to kick off June and the weekend. We hope our paths cross with Jack Maxwell & the fellow co-stars again some day.
Lastly, the Cold Bold cocktail is not available at this time, but that could change! Who knows. You may see it's return especially with it being as popular as it was.
In the meantime, order a Bistro Old Fashion made with the branded whiskey or even a City Wide paired with house favorite Lager, Sly Fox Helles! Morever, a number of sizes of our Whiskey Rocks T-Shirts are in stock that would indeed be perfect for Dad on Father's Day! Get yours today before they're gone. Cheers!