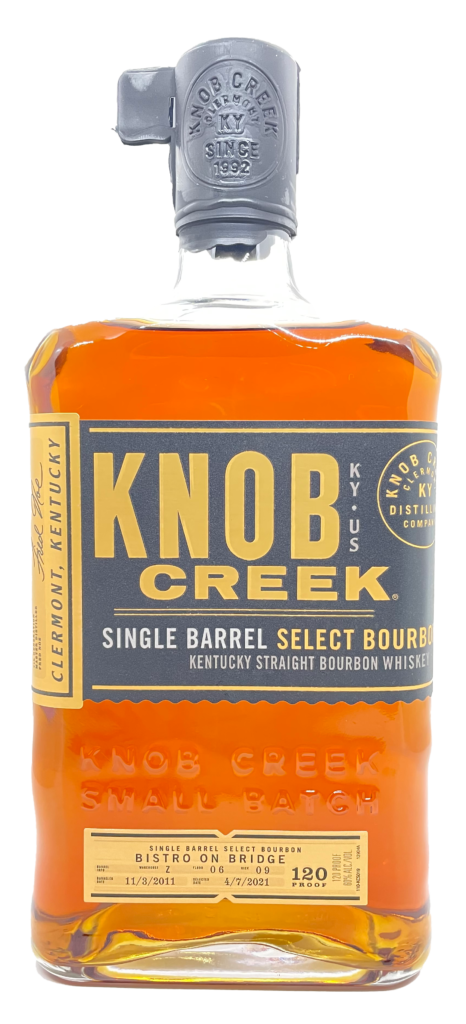 Just how Whiskey?
Bistro on Bridge is excited to announce our very own LIMITED EDITION Knob Creek Single Barrel Bourbon
We were very fortunate to be a part of Knob Creek's Single Barrel Experience program (click link for more information), which basically means a barrel was selected by us, based on our taste preference from samples we were given, and then crafted into, what our team truly believes is, the quintessential bourbon for lovers of the style. Especially for the colder months ahead!
At 120 Proof, the Bourbon is strong, but delicately smooth & deceptively delicious, moreover, we can't rave and recommend this Whiskey enough to everyone!
Phoenixville, we think….no, we know you're going to love enjoying this on a crisp Autumn day, and trust us, you won't mind if it's even a little chilly out there. This is going to warm you right up come Winter time!
First, you're probably asking yourselves, "how can I enjoy this new item?" Glad you asked!
You can enjoy from the following list of options
Snifter Pours (1oz | 2oz)
Flight (3/4oz pour of each)
Bistro on Bridge Knob Creek Single Barrel Bourbon, Rye, Bourbon
Bistro Old Fashioned
Knob Creek Single Barrel Bourbon, Angostura bitters, Demerara syrup, Luxardo cherry, orange peel
City Wide
Sly Fox Helles Lager & a 1oz pour of Bistro on Bridge Knob Creek Single Barrel Bourbon
For a full list of our cocktails, view our Menu.
In addition, we will be hosting a contest through our social media accounts where one lucky winner will be selected to bring this bottle to enjoy from home. Lastly, we will be hosting a dinner event that will showcase the Limited Whiskey paired perfectly with menu items crafted from our kitchen.
Futhermore, this Single Barrel Select Bourbon will not be here forever; therefore, when it's gone, it's gone! That's why we mean Whiskey Business!