We can not believe it's been thirteen years!
Clearly, time flies. Especially with 2020 & 2021 being one for the books. All that is behind us. Above all, it's time to look onward and live in the now! Without a doubt, 2022 has been our strongest year. We've housed phenomenal brews, regularly, on tap. Not only has it been great having Russian River's Pliny the Elder & Blind Pig on draft, but also, who would have thought we'd host three tap takeovers showcasing The Veil Brewing Company!
It should be noted our Merch offerings expanded beyond hats & baseball t-shirts. You can expect a vast selection of swag, at Bistro on Bridge, celebrating events particularly like Blob Fest, the 80's era and Phoenixville in general! We have more in the pipeline, so stay tuned.
In spite of being unable to celebrate turning 11 or 12, Bistro on Bridge is doing it up for our 13th Birthday. Our restautant is officially in its teens!!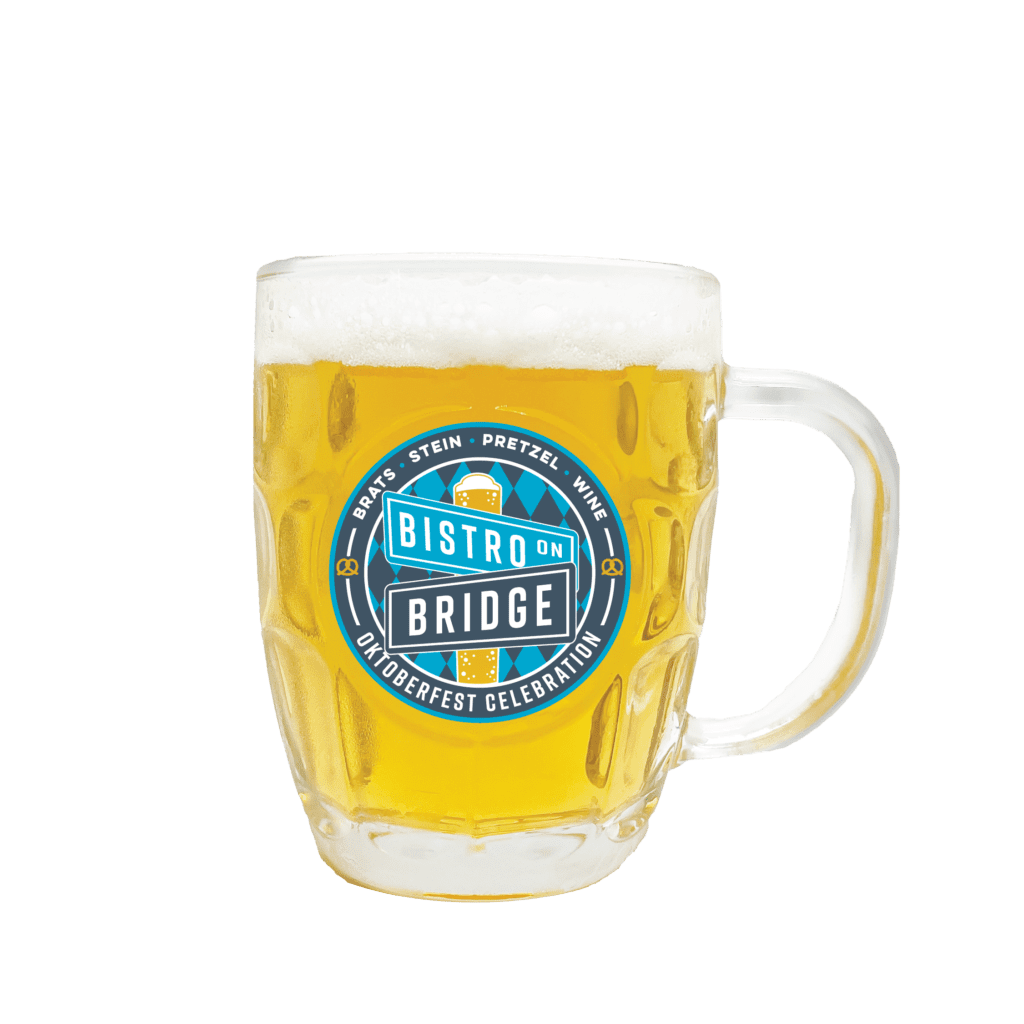 Out of the gate, we are doing this in Oktoberfest fashion where you can expect to find German inspired menu items, authentic ales & music sure to get you clicking your heels and kickin' it on the dance floor! As of late, we have more details ironed out so you know Bistro on Bridge is the spot to be on Saturday, September 24th!
Before the music & family festivities begin, our doors will open at 11am allowing customers to enter, purchase one of our two mug options & get their initial pours! The following beers, that will be on draft, are listed up & downstairs. That's right, we will have draft available from our 2nd Floor as well!
Downstairs Draft List
Ayinger Bavarian Pils (2022)
Ayinger Celebrator
Ayinger Oktober Fest-Märzen
Bitburger Oktoberfest
Mainstay Independent Oktoberfest
Sly Fox Oktoberfest
Spaten Oktoberfest
Weihenstephaner Hefeweissbier
Weihenstephaner Dunkel
Weihenstephaner Original
Weihenstephaner Vitus
Wyndridge Cider Co Cider
Additionally, there will be a Celebratory Keg, courtesy of Mainstay Independent, that will be poured by Phoenixville's own Mayor, Peter Urscheler! It's a Munich tradition & that's how we plan to launch this party at Bistro on Bridge!
Upstairs Draft List
Spaten Oktoberfest
Bitburger Oktoberfest
Weihenstephaner Hefeweissbier
Ayinger Celebrator
Mainstay Independent Poplar Pils
Mainstay Independent Oktoberfest
Most importantly, what's an Oktoberfest without fun activties & live music? You can count on fun for all to enjoy in our Analog Room & Outdoor Beer Garden. Expect those activities to start at noon & continue throughout the rest of the day. Nevertheless, after 9PM, the restaurant will be 21+ to enter.
Family Fun Activties
12-4PM: Face Painting Frenzy
1-4PM: Photo Booth
2-4PM: Balloon Artist
Music Schedule
12-3PM: Yodeling Dave Kline & The Mountain Folk Oktoberfest Duo
4-7PM: The Punkabillys
8-11PM: Variety Society (21+ Only)
Lastly, our team can't stress enough how excited we are to host this day with customers new & reoccuring. Undoubtedly, it's always great to see returning favorites, and of course, it's our loyal fanbase that makes this all possible! Please Save the Date & also help us spread the word. This Oktoberfest Celebration will, absolutely, be our BIGGEST EVENT TO DATE!