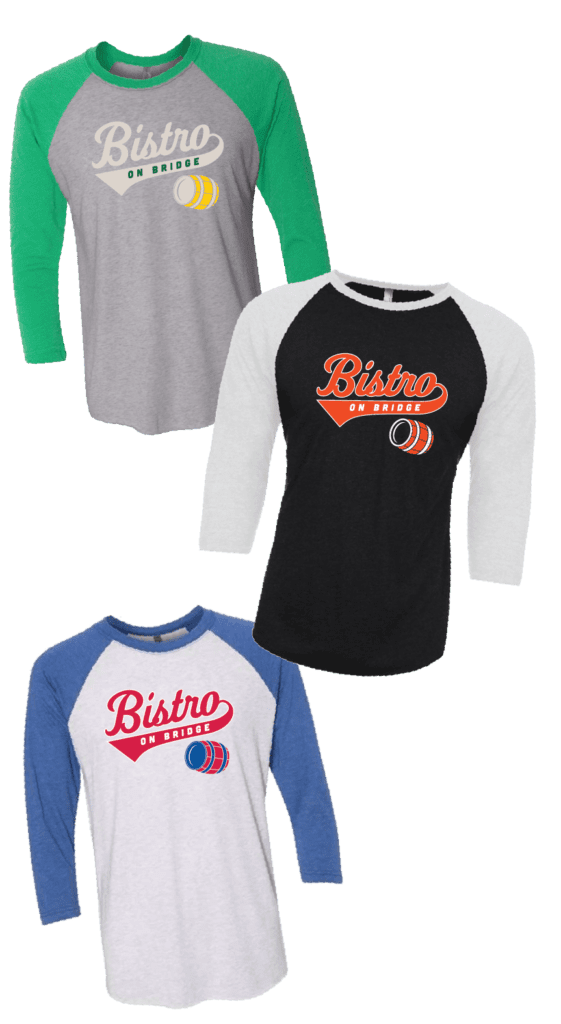 Seasons change & so does our Merchandise! 
With the arrival of Fall, Bistro on Bridge just dropped the essential hoodie for wearing outdoors.
Comfy, soft, snug, and paired with your refreshment of choice, they will get you in all the right feels! We have a variety of sizes available. So when the temperature drops, you're going to want to wrap yourself in one of these.
You may even noticed the front sports an entirely different Bistro on Bridge logo, which we hope to showcase moreso on future merchandise.

Not only would we say it's the perfect attire while upstairs in our Beer Garden enjoying our long lineup of refreshments, live music, but also while you're out & about supporting all your local Phoenixville spots.
We'd even go as far as it's the perfect tailgaiting companion.
And speaking of tailgating!
If you've dined with us, you know we LOVE our Baseball T's. And if you know our Team at Bistro on Bridge well enough, you know we love our Philly sports.
Not only are we offering a hoodie for the change in season, but also baseball t's! That's why we're offering three, yes, THREE, Philadelphia inspired Baseball T-Shirts!
Whether you're on the Road to Victory with the Birds, Fly or Die with the Flyers or want to show you're a Phanatic, we have an option for you. These items are available for purchase at the restaurant.
Get yours today while supplies last!
Lastly, make sure to stay tuned. In addition to our outdoor hoodie, we will have head gear available very soon. It's very important to keep warm from head to toe when those temperatures drop!
Futher, if there is any swag you would like us to carry, please, let our staff know and we will highly consider it! We value all our customers' input.