Sunday, March 15th feels like a lifetime ago.
That day we decided to close our doors to patrons dining in our establishment. The safety of our customers, and our staff, became our #1 priority. Eventually everyone around us, around the world, began to follow suit. The life that once flowed through Bridge Street in Phoenixville came to a sudden halt.
As many local businesses owners can testify, it's very heartbreaking to see absolutely no customers inside your building. Empty chairs. Zero foot traffic. No live music radiating through our Beer Garden. All overnight. POOF! Gone. And not knowing what tomorrow would bring in this unprecedented situation only made things all the more difficult. And the News certainly didn't help.
But as time went on…something happened. Businesses, Patrons, everyone, everywhere, they started to band together! Restaurants were supporting retail online. Retail stores were ordering Takeout from restaurants. The marquee signs at Colonial went viral over the internet. And so on and so forth. It was truly uplifting that even though we were apart, we were still strong, working together. That sense of community kept the town going and "Supporting Local" was once again!
Is there any better community than Phoenixville? The answer you're looking for…is no.
Weeks went by, and calls started roaring in for Takeout. We spotted some familiar faces at our front window. The response of customers tagging photos of our Carryout Bags and Crowlers on social media, it truly exceeded our expectations. (Fun Fact: our Takeout Bags were printed and delivered just two days before we had to shutdown)  Even with that sense of uncertainty looming over our heads, the local support made the current situation an easier adjustment.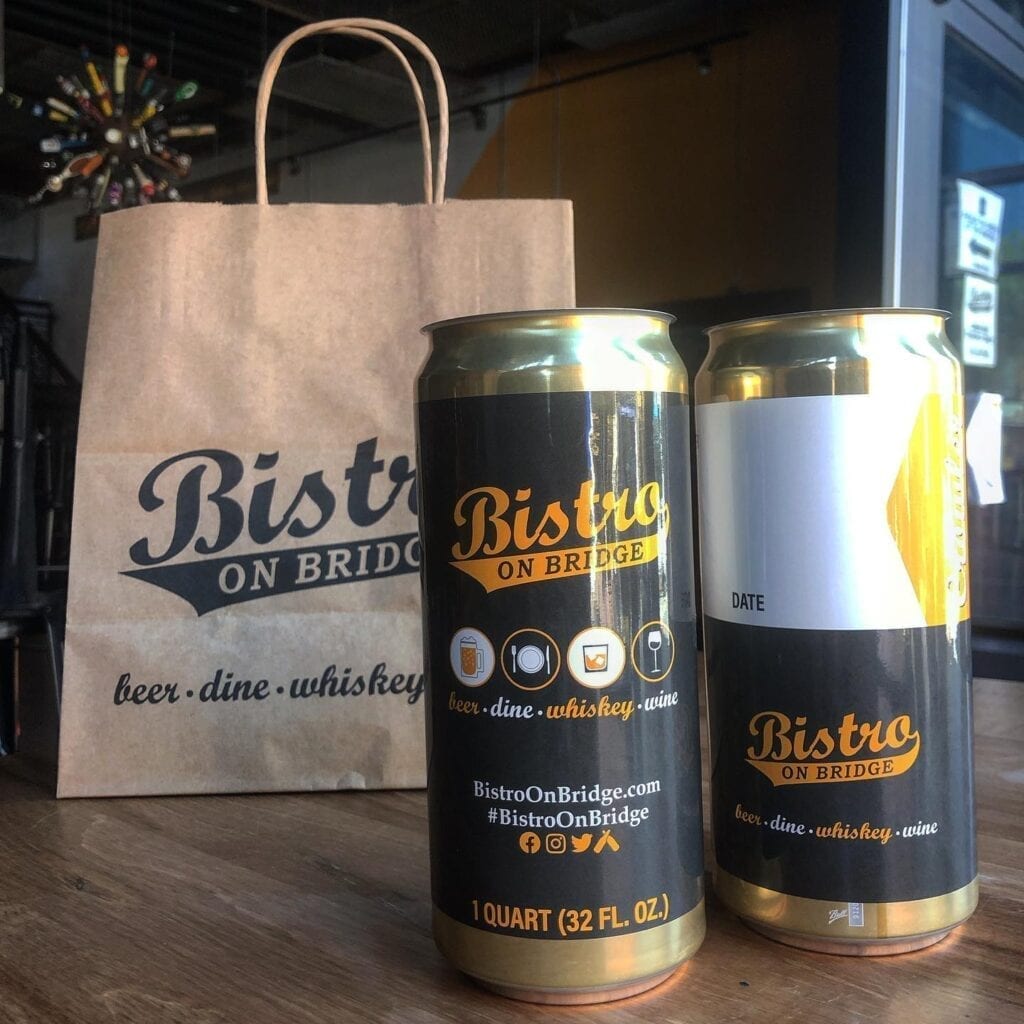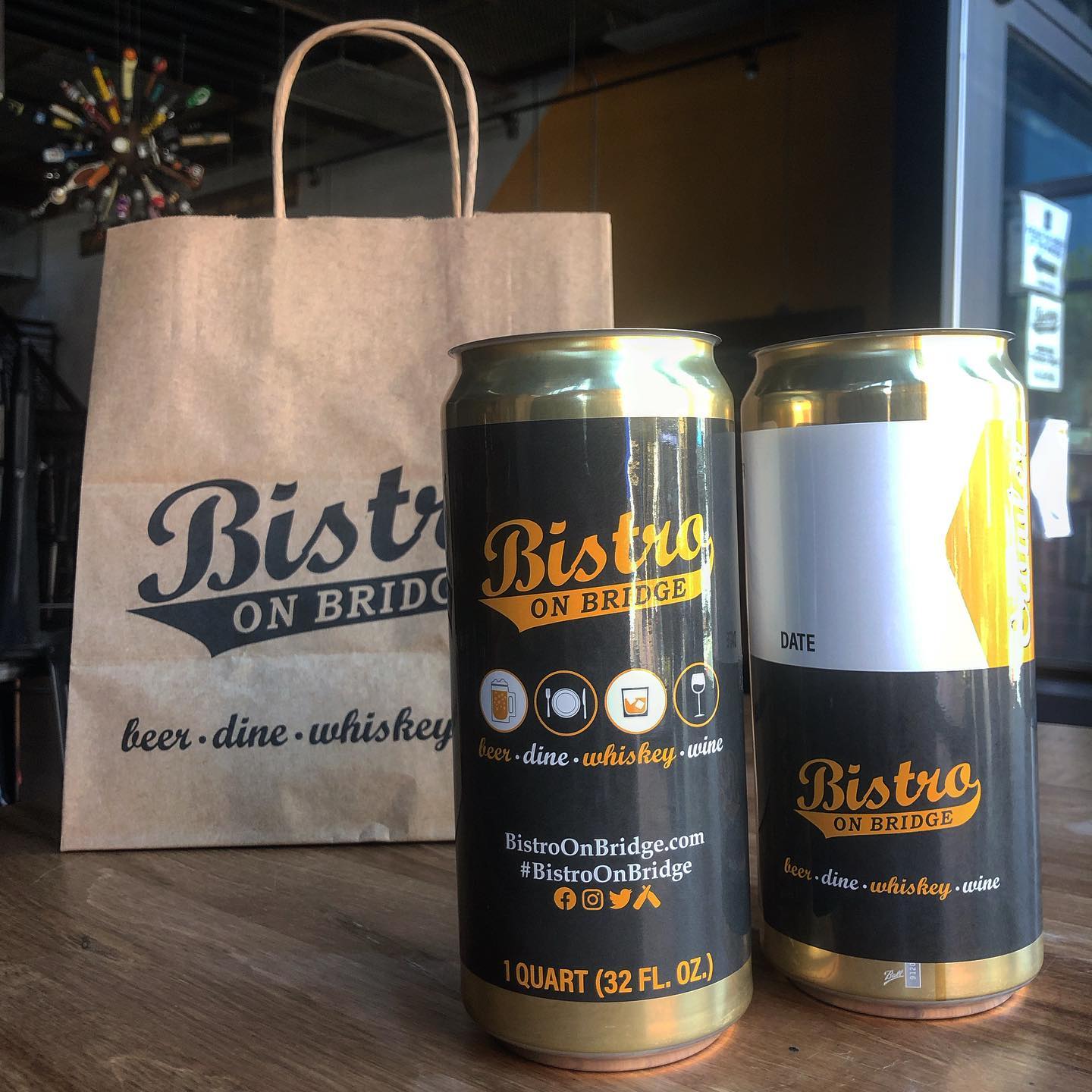 Eventually, things were looking up when the Government allowed Restaurants & Bars to offer cocktails for Takeout. It put our Mixology skills back to good use! We missed making all our Bistro Favorites, such as our Orange Crush or Strawberry Mojito. It was a light at the end of a very long tunnel. A glimmer of hope.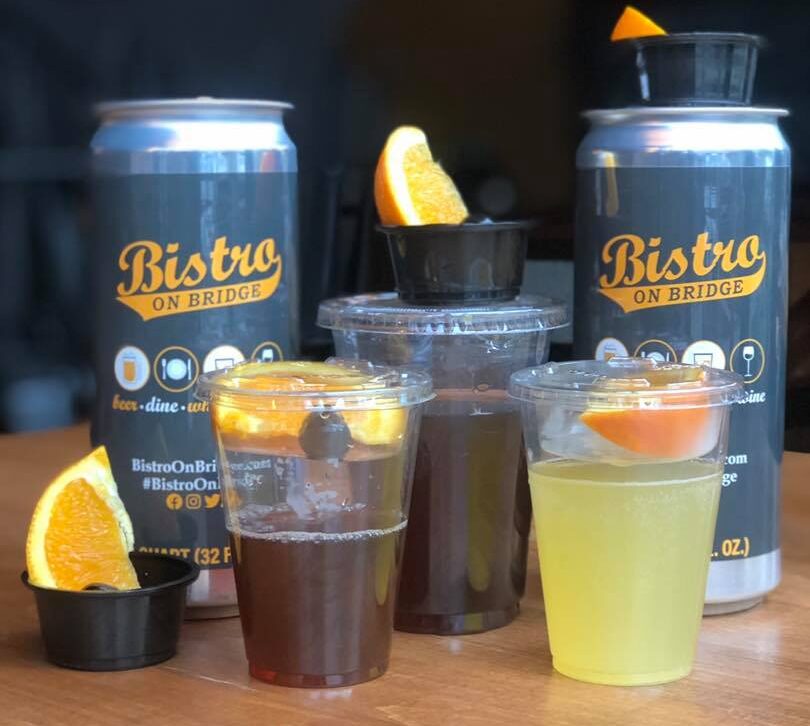 And just like that, we made it to the Yellow and were able to serve our loyal customers once again! Lucky for us, an opportunity arose, and we were able to serve not just at 212 Bridge Street, but also at Bistro Dos (400 Bridge Street). Let us not also forget the Borough opened up the streets to offer additional space for shops and restaurants. It's been great seeing life breath up and down Bridge Street once again!
That brings us to Friday, June 26th, when Chester County moves to the Green Phase! Bodies will be in seats inside and out of our restaurant as well as some stools available at our Bar! To think, you can actually read tbe beers listed on our downstairs chalkboard!
Here's a list of what to expect when we enter the Green phase. A lot of it is similar to when we entered the Yellow, but with a few additions:
Reservations are still encouraged. Especially on the weekends. You can make those from our website.
Guests are still required to wear facemasks upon entry and whenever they're not seated at their table
There is a 90 Minute table limit. We are still at 50% capacity and would like to serve as many of our customers as possible.
There will now be limited seating available at the bar!
We are only accepting credit cards or gift cards, but you may leave a cash tip for your server
We will now be open to booking private events for those long overdue celebrations! Our event manager will provide more info over the phone
And most importantly…enjoy!! You earned it
It may not be the normal we once knew, but we came a long way in three months. We know we are not alone. Together, Phoenixville, we will Triumph! To all our loyal customers (new and returning), we can't spell Support without U and you there's no Business without US! Thank you everyone for your continued support. Cheers! #SupportLocalPXV