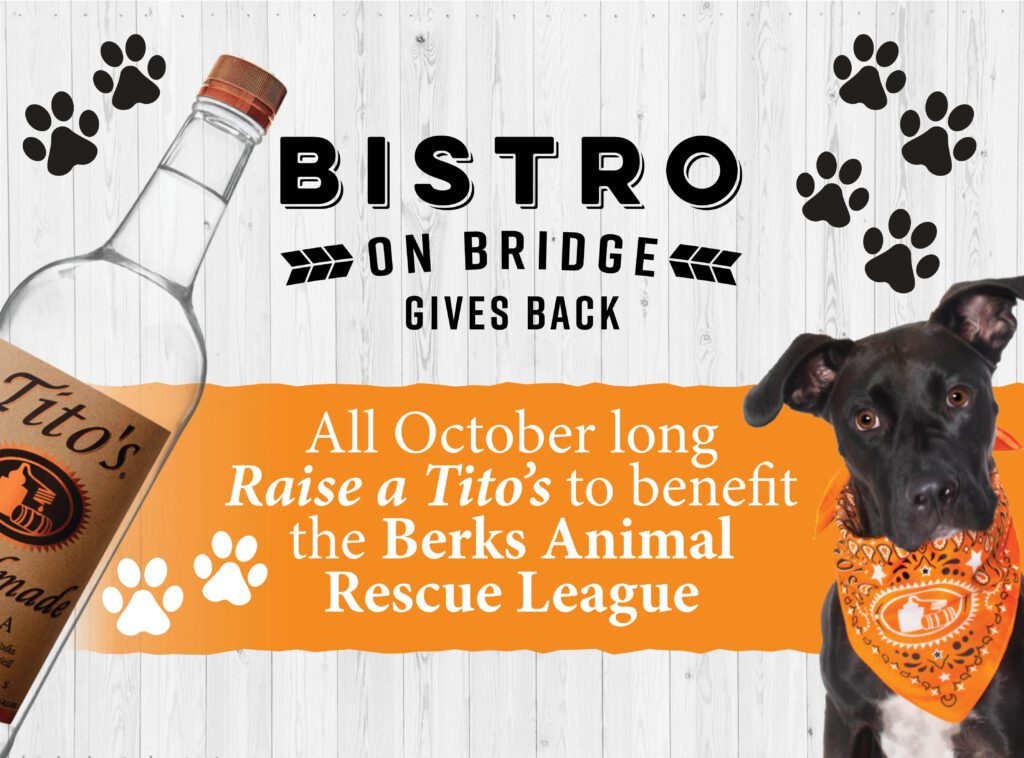 Barktober is here at Bistro on Bridge!
All BARKtober….oops! All OCTober long, Tito's Handmade Vodka and Bistro on Bridge will each donate a $1 to support the Animal Rescue League of Berks County. We do so with every Tito's drink purchase. This is a large part why we partner with them for this wonderful venture.
Tito's is notorious for being known as "Vodka for Dog People". Why you ask? Head to the following link to find out more. 
Each time you order, say, our seasonal Pomegranate Mule or Pear Martini, you'll be helping a great local cause! Good thing October is such a long month. More days to support and further it doesn't hurt the cocktails are delicious!
So who exactly is the Animal Rescue Leave of Berks County?
The Animal Rescue League of Berks County is a charitable 501c3 organization caring for nearly 4,500 animals each year to help them find second chances in a new home, or to help reunite them with their grateful owners. For more than 65 years, the Animal Rescue League have worked tirelessly to care for the sick, treat the injured, comfort the unwanted and protect the abused. As a matter of fact, Bistro on Bridge has been working with them for always as long as we've been open in Phoenixville.

Check out their website for a current list of available puppies in need of a furever home! Visit https://www.berksarl.org/ for more information. And make sure to follow us on Facebook & Instagram for other charitable events & promotions. In addition to this, we offer our monthly charitable Philly Egg Roll Campaign and Doggie Menu to raise funds for the Phoenix Animal Rescue. 

A huge part of why we are able to help these amazing causes and spear head these campaigns is from the support of all our amazing customers; furthermore, we couldn't do this without you! Many thanks for your continued loyalty.